The latest news about Biomass Research
Will biomass be banned in the Netherlands – and can we do without it?
The Dutch ministry of Economic Affairs and Climate Policy has decided that no new subsidies will be provided for the generation of energy using woody biomass.
Read the full news article here. (Only available in Dutch.)
Is forest harvesting increasing in Europe?
Is forest harvesting increasing in Europe? Yes, but not as much as reported last July in a controversial study published by Nature, says the European Forest Institute. 
The study, which used satellite data to assess forest cover, claimed an increase of almost 70% in the harvested forest in Europe from 2016. In a response published in Nature, 30 scientists from 13 European countries have discovered evidence that throws into doubt the conclusions of the JRC study, noting that the large harvest changes reported by JRC result from methodological errors and often wrongly attribute the decline of forests to timber harvests. 
Read the full article from the European Forest Institute here. 
Clean Shipping Project
We are happy to announce that the Clean Shipping Project website is now live!
The Clean Shipping Project aims to develop and improve thermochemical processes for the production of biofuels, while taking into account technical, economic, environmental, social and institutional challenges. Based on a case-study approach, they design versatile supply chains for biomass feedstocks based on Biohubs, in which local sourcing of biomass is done in an environmentally & socially sustainable way.
U.S. Corn Use for Ethanol Does Not Drive up Corn Price or Reduce Corn Exports
Biofuels often are criticized for the way they compete with food markets ('food vs fuel'). The demand for crop feedstocks is expected to lead to increasing food prices in biofuel producing countries. Loss of food production, further, is assumed to provoke crop area expansion and deforestation in countries like Brazil or Indonesia. Carbon release that is caused in the process should then be attributed to biofuels ('carbon debt').
A new study has been analysing these assumed relations in detail. Using a causality analysis, developments in ethanol production, corn production, prices, exports and use were tested in the U.S. Using a dataset covering marketing years 1986 to 2017, the authors have been able to test the impacts of the increasing corn-ethanol production that followed the introduction of the RFS in the United States.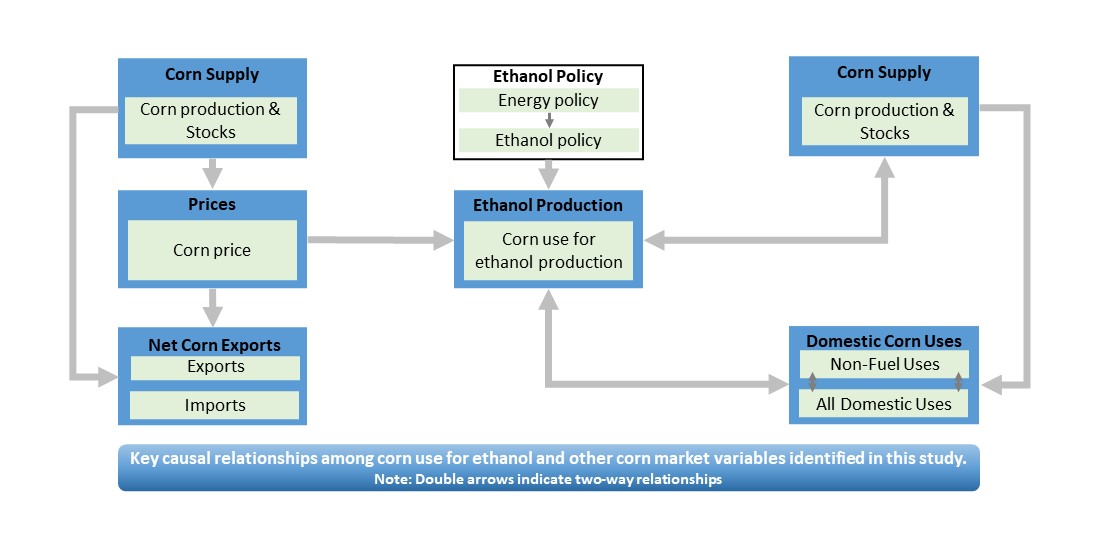 The outcomes show U.S. corn use for ethanol has not been driving domestic corn price, or reducing net exports. Instead, corn supply and domestic corn use were key factors in accommodating the increase in corn use for ethanol between 2003 and 2010. The outcome differs dramatically from common assumptions that link U.S. corn-based ethanol to reduced corn exports, increased global corn prices, and related consequences for global land use change and food markets. A different assessment of potential indirect effects of U.S. corn use for ethanol on corn markets is needed.
Read the full article here or download the full article from our list of publications.
Commencing the HOOP Project
We are happy to announce that the Hub of circular cities boosting platform to foster investments for the valorisation of urban biowaste and wastewater (HOOP) has now begun!
Read more about the HOOP project on our special project page. 
Use of Woody Biomass for Energy Production in the Netherlands
Biomass Research has analysed the use of woody biomass for energy production in the Netherlands, as requested by the Platform Bio-Economy (PBE). The report shows that the majority of woody biomass used for energy production in the Netherlands is sustainably sourced and utilised.
Total use of woody biomass in 2019 amounted to 2.6 million tons, an increase of 1 million tons compared to 2018. The difference is largely due to the growth of co-firing. More than two million tons were used to produce both heat and electricity (so-called combined heat and power or CHP).
Sources and origins
Woody biomass used in local heat and cogeneration mainly is sourced from the Netherlands (89%), with some wood coming from Belgium and Germany (11%); it consists mostly of residual materials.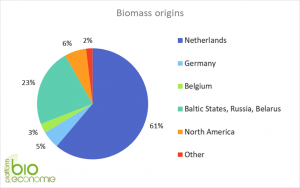 Residual flows originate in regular forest, nature and landscape management, post-consumer wood and  agricultural, food, and wood industries. Most biomass is mainly traded and utilised as as wood chips, and shreds.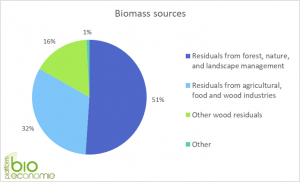 Biomass used for co-firing largely consists of pellets originating from the Baltic States, Russia, Belarus and North America.
Certification and air filters
Almost half of the woody biomass was traded under a voluntary sustainability certification scheme – twice as much as in 2018. All installations are applying filter systems to help improve air quality.

Read more about the project here or download the full report here. (Only available in Dutch.)
Sustainability Journal Special Issue
Sustainability is an international peer-reviewed open access semimonthly journal published by MDPI. The special issue will be edited by guest editors Dr. Keiji Jindo from Wageningen University and Hans Langeveld from Biomass Research.
There is an urgent need to develop organic waste treatment systems that serve the circular economy and fit in a climate abatement agenda, redefining the role of waste management and sustainable agriculture in our society. Both biochar and bioslurry are potentially highly effective, but underutilised  resources that could play an important role in the development and deployment of effective carbon-negative routes in food as well as energy production. However, information regarding the beneficial roles of the biochar and bioslurry still is quite limited, as is information regarding the potential pitfalls of their uses within the framework of the circular economy.
The upcoming special issue The Efficiency of Biochar and Bioslurry toward Sustainable Agriculture and Circular Economy will focus on the benefits of biochar and bioslurry application, evaluating their potential role in a sustainable agriculture and the circular economy at large.
The special issue is currently open for submission, and we would like to encourage everyone to contribute. We welcome original scientific articles related to a wide range of biochar and bioslurry use from all parts of the world. You can submit a manuscript until 31 January 2021.
Read more about the special issue and how to submit a manuscript here.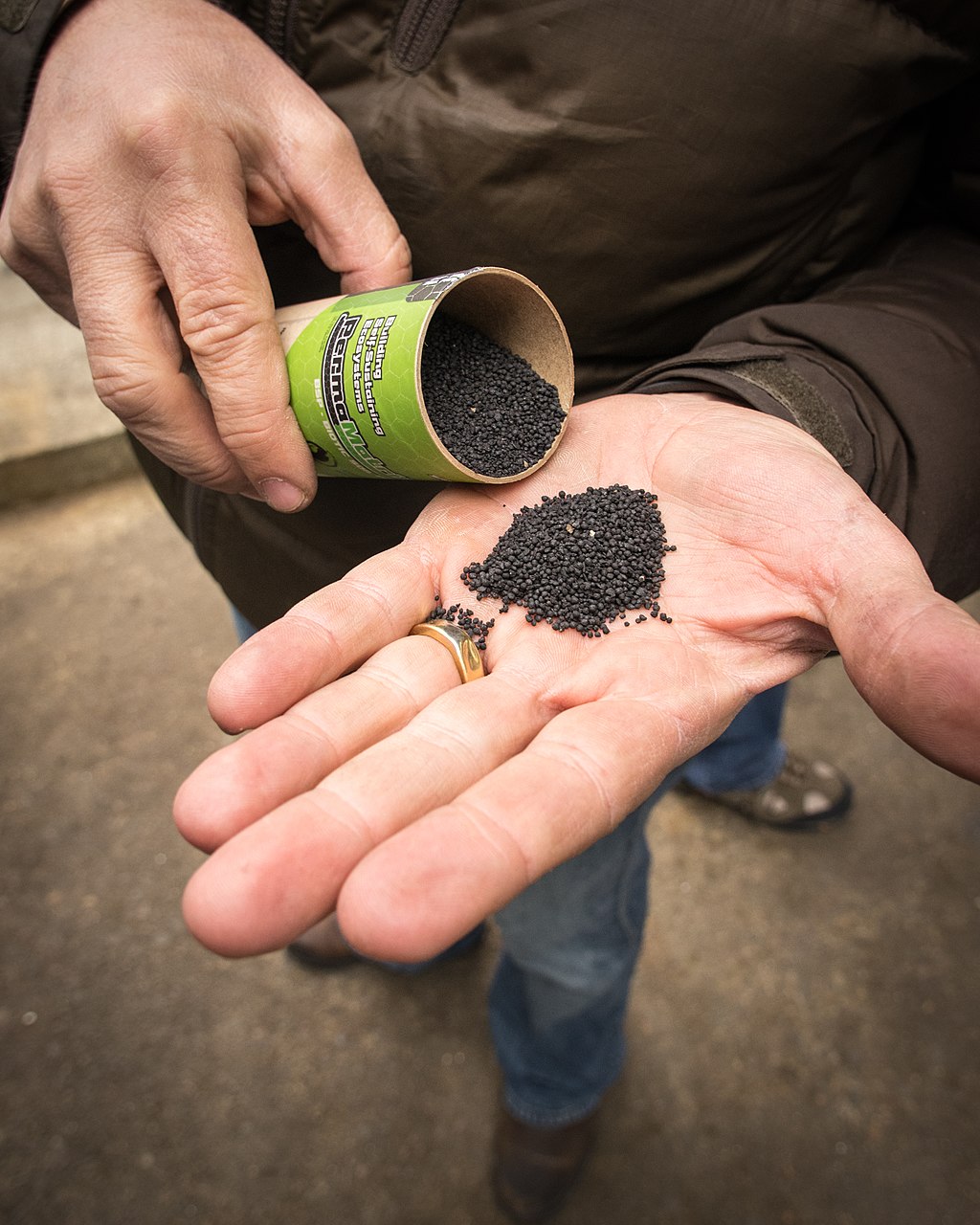 CO2 Balance When Using Biomass as an Energy Source
B

iomass is our oldest source of energy, but biomass has gradually been replaced by fossil fuels. In recent decades there has been a revival of the use of biomass, with the aim of replacing fossil fuels with sources with lower net CO2 emissions. 
'Biomass' is a container term with many different applications, the social discussions often center around co-firing of pellets (compressed pieces of wood) in coal-fired power stations, and about biomass power plants on pellets or wood chips for the production of heat. 
A lengthy report was recently published by the Netherlands Environmental Assessment Agency (PBL) under the leadership of Bart Strengers and Hans Elzenga on the availability and application possibilities of all forms of biomass. The report takes a detailed look at the different perspectives that play a role in imaging.
Read the full article by Prof. Dr. Guido van der Werf here. (Only available in Dutch.)
Inventory of Solid Biomass Residues in Northern Europe
Solid biomass availability was assessed in a recent Biomass research study, calculating how much woody residues can be obtained in Sweden, Finland, Baltic states, Germany and the Netherlands. The inventory covered waste streams available from forest management, wood and paper industries, agriculture, households and urban areas.
This study was done at the request of the Dutch chapter of Friends of the Earth (www.milieudefensie.nl), following concerns about ambitious bioenergy policies in the Netherlands and other countries in the region. Forests and wood and paper industries in North Europe (Sweden, Finland and Baltic states) generate over 47 million tonnes of residues (expressed as dry wood equivalents). Half of this is produced in Sweden. Considerable amounts of woody biomass can be recovered from other sources, such as arable crops (4.5 million tonnes dry materials).
German forest and wood residues – annually amounting to 14 million tonnes of dry wood – do not cover its demand but addtional materials can be sourced from arable crops, gardens and food industries. This is also the case in the Netherlands, which has relatively few forest resources.
Sweden currently is the only country which provides sufficient residues in forests and wood / paper & pulp industries to cover its projected domestic biomass use. Most countries, however, have room to increase wood extraction as current harvesting volumes are below annual forest growth. Consequently, wood volumes in the North of Europe still are increasing. Since 2000, forests sequestered nearly 500 million tonnes of carbon.
Forest and wood statistics
The inventory processed national and international (FAO, EUROSTAT) forest and wood statistics, linking them with EU biomass inventory studies and a continental biomass availability projection (see www.s2biom.eu). Availability of reliable biomass supply and demand data is a crucial element in the ongoing debate on the role bioenergy can play in providing sustainable renewable energy to replace fossil fuels and cut greenhouse gas emissions.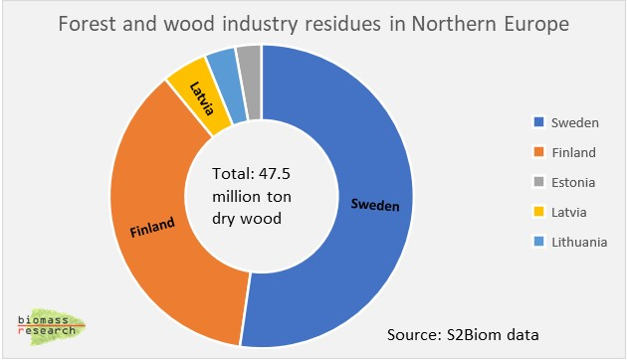 A copy of the report can be found here.  (Only available in Dutch.)
Researching Maritime Biofuel
The Nederlandse Organisatie voor Wetenschappelijk Onderzoek (NWO) recently approved a project for researching sustainable maritime bio-fuels. The organisations Solidaridad and Platform Duurzame Biobrandstoffen will make contributions to this project, as will Biomass Research on behalf of Federatie Bio-economie Nederland.
It's about time the maritime sector became more sustainable, and bio-fuels provide an interesting opportunity in this regard. But the technology still falls short of the demands of the maritime sector. The project will therefore focus on the use of sustainable biomass for the production of maritime bio-fuels.
The multidisciplinary research project will be led by Dr. Lotte Asveld of the Technische Universiteit Delft and will start in 2020.
Read the article from the NWO about the project here. (Only available in Dutch.)
Anaerobic Digesters for a Better Life
Many poor rural areas offer very few opportunities for their inhabitants. When soils are poor and rainfed is low, as is the case in most of Killifi county in the coastal zone of Kenya, farmers and their families have to rely on rainfed agriculture with low external inputs. Low yields, long distances and poor access to advice, inputs and markets offer effective barriers for development. Only few market opportunities are available, in this case cassava, cocos, chillies, dairy cattle and extensive poultry production.
Under these conditions, anaerobic digestion (AD) offers perspectives for poor smallholder households. Using the dung of just a few cattle, it allows them to generate their own cooking fuel. Replacing firewood, which often requires hours per day to collect, improves indoor air quality and saves women and children from serious respiratory problems. Moreover, the residue of the AD process, digestate (or bioslurry), an effective organic fertilizer, is available at no cost. During digestion, nutrient availability (especially nitrogen and phosphorus) is improved, and bacteria are killed. Tests have shown that bioslurry can replace expensive chemical fertilizers, even reducing their effect on soil acidification.
Various digester types are available nowadays in rural Kenya. Next to the traditional brick and mortar digesters, dug into the ground for stable temperature and support, various soft plastic alternatives are on offer including tubular, tunnel, hut-like models. Hard plastic digesters are made from drums or water tanks. While all models have their advantages, they remain vulnerable for cracks and wearing. Some models are covered to protect them from the sun as UV can lead to strong wearing. Essential for all models is a stable feeding regime with diluted manure as well as sensible digester management.
At Biomass Research, we study optimal digester management, allowing poor farmers and their families to save on firewood, improve their health, and realise better crop yields and incomes. We are open for collaboration. Are you working with smallholder farmers, looking to improve their living conditions? Are you advising and monitoring smallholder digesters? We are happy to discuss how to enhance digester management and performance. Send us a message, or mail us at hans@biomassresearch.eu.
Let's work together to improve living conditions for poor smallholder families.
Biogas Investment and Electricity Production Costs
An analysis by RESFARM project for Spain
Source: Breure et al. (2017)[1]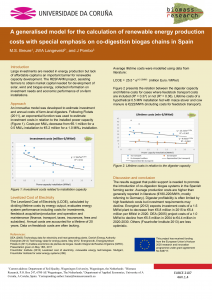 (click to enhance)
Large investments are needed in energy production in order to realise ambitious goals for reduction of greenhouse gases presented in the Paris Agreement. Entrepreneurs are facing major challenges in developing new renewable energy capacity. Lack of affordable capital is one of the most important barriers for renewable capacity development. The RESFARM project, assisting farmers to obtain market capital needed for development of solar, wind and biogas energy, collected information on investment needs and economic performance of on-farm installations.
An innovative model was developed to estimate investment requirement and annual costs for operation and maintenance of farm-level digesters from literature and practical experiences. Literature and field survey data were analysed and applied using an exponential function to assess investment costs in relation for new biogas installations in Spain.
Investment costs range between €2  and €6 million per per MWel installation capacity depending on digester size. Highest costs were found for small (500 kWel) installations, with costs decreasing fast with increasing capacity (Figure 1).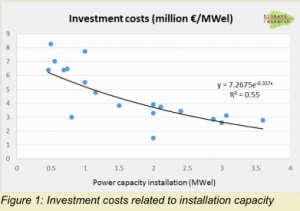 Electricity production costs were calculated from lifetime costs and electricity output. Levelized Cost of Electricity (LCOE) are used to evaluate investment needs, feedstock costs, and operation and maintenance (finance, transport, taxes, insurances, fees and subsidies) in comparison to fossil and other renewable energy systems including wind and solar.
Average production costs exceed reports from literature which mostly refer to Germany. Results suggest that support is needed to help develop co-digestion biogas systems in the Spanish farming sector. Digester profitability is often limited by high feedstock costs, but investment costs may be expected to decline. Viable biogas development will depend on availability of affordable feedstocks (including crop and industrial residues), capital and cost-effective digester management.
[1] Breure MS, Langeveld JWA, Pombo J, 2017. A generalised model for the calculation of renewable energy production costs with special emphasis on co-digestion biogas chains in Spain. Poster presented at the European Biomass Conference and Exhibition, 12-16 June 2017, Stockholm
---
Residue composition and biogas yield
The need for implementation of renewable energy is getting more and more urgent. Valorization of crop and household residues provides a promising source of energy. Currently, however, a large part of residues in agriculture and food production are hardly used. Many of these can be applied for the generation of energy via anaerobic digestion but we have limited insight in the relation between the composition of the residues and biogas potential. This holds especially for the concentration of nitrogen (N) and phosphorus (P) in residues.
Students of the HAS University of Applied Sciences in Den Bosch (Netherlands) tested the relation between low, medium and high N and P concentrations (depicted as C/N and C/P ratios, respectively) and biogas yield in an experimental setting. Samples of residues were digested in small flasks for a period of three weeks. Feedstocks have been included that represent residues high in starch (potato peelings), proteins (silage maize) or fat (coconut milk).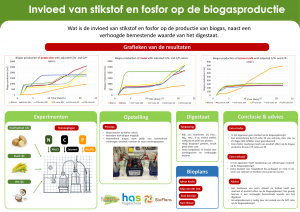 (click to enhance)
Outcome of the tests has been described in a report and a poster that was presented in a seminar at the university. Results show little impact of (variations in) nitrogen and phosphorus concentratins. Highest biogas yields for potato skins were realised at natural nitrogen (C/N ratio 8) and phosphorus (C/P 19) concentrations. For maize, a C/N ratio of 30 gave the best results (natural C/N value was 46), while lower phosphorus concentrations (higher C/P values) outperformed natural C/P ratio (which was 9). Results for coconut milk were inconclusive.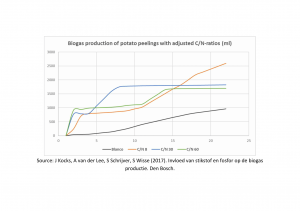 Results are in line with literature. Optimal C/N ratio is generally reported to be around 30 although lower values have been presented as well (e.g. Guarino et al., 2016). For phosphorus, normally high to very high C/P ratios (350; Ghasimi et al., 2009) are recommended.
Further reading:
Student report: J Kocks, A van der Lee, S Schrijver, S Wisse (2017). Invloed van stikstof en fosfor op de biogas productie. Den Bosch.
HAS University of Applied Sciences in Den Bosch: https://www.hasinternational.nl/
Ghasimi et al. (2009) The Effect of C:N:P ratio, volatile fatty acids and Na + levels on the performance of an anaerobic treatment of fresh leachate from municipal solid waste transfer station. African Journal of Biotechnology Vol. 8, pp. 4572-4581.
Guarino et al. (2016) Does the C/N ratio really affect the Bio-methane Yield? A three years investigation of Buffalo Manure Digestion. Chemical Engineering Transactions, Vol. 49. DOI: 10.3303/CET1649078
---
Biofuels hardly competed with food production: Column
http://www.biobased-society.eu/2013/07/biofuels-hardly-competed-with-food-production-so-far/
Our work in the press
Danish – hveiti.dk
Dutch – agro-chemie.nl
Feedback on our work
'The report published by Biomass Research provided a much less extreme image of reality on Food vs Fuel and iLUC than many NGO will make us believe'
(in Dutch: Het rapport van Biomass Research [..] geeft een veel genuanceerder beeld van de werkelijkheid over Food-or-Fuel en ILUC dan NGO's ons willen doen geloven).
Press release
Press release
Biofuels compete little with food production – so far
From our press release
WAGENINGEN, The Netherlands – A week after the environmental committee of the European Parliament (EP) capped biofuel production from food crops to a maximum of 5.5% because of its effect on food security, a new study reveals food production is not suffering much from the use of corn, wheat or palm oil in biofuel production.
Calculating land use changes in 34 countries including Brazil, the USA, and the EU, a team headed by Hans Langeveld demonstrated biofuels are not likely to compete with food production – or cause major deforestation, usually indicated as indirect land use change (ILUC). According to the study, between 2000 and 2010, urbanisation claimed twice the amount of land used for biofuel expansion.
It contains other revealing data. "Increases in crop harvested area compensated biofuel expansion", says Langeveld. "It even made up for loss of agricultural land due to urbanisation".
Farmers adapted to increased demand for crops. "Not so much by opening new land", he adds, "but by using it more effectively". Farmers thus managed to harvest more crops – from less land.
"It does not mean that biofuel production never affects food production", he adds. "Competition for land does occur. Locally, biofuel producers may use land that was used for other crops."
The researcher emphasises that this practice should be discouraged.
"Existing land rights should be respected – at all times".
The report arrives in a time where biofuel policies are highly criticised. It is expected to play a role in further discussions on the ILUC debate. Last week, a new iLUC study by the American researcher Timothy Searchinger was attacked for being based on weak evidence.
The study ´Analysing the effect of biofuel expansion on land use change in major producing countries: evidence of increased multiple cropping´ was authored by Hans Langeveld, John Dixon ( Australian Centre for International Agricultural Research), Herman van Keulen (emiritus professor of Wageningen University and Research Centre) and Foluke Quist-Wessel (Agri-Quest).
Our motto:
more data and better analysis = less speculation!